The Treehouse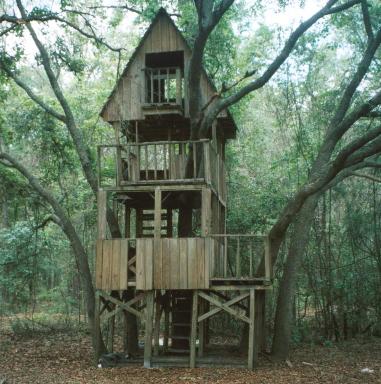 The Treehouse is a very special part of me. It is a project my father and I built when I was growing up. He and I built and learned together and the end result was this fantastic structure. It sits in a small grove of live oak trees and is constructed of treated lumber. It stands four stories tall and is self-supporting.
The Treehouse was built over a period between 1982 and 1988. I visited my father for six weeks during the summer months in Lake City, Florida, during which we would work on the Treehouse. The property was sold about 1994 to a neighbor whose children played on it too. I took the above picture in May 2003. When I visited it last, the structural members still seem very sturdy. I could see that time has taken its toll on the wooden structure - especially the floor boards.
The original idea
The original idea for the Treehouse was to build a simple platform about 8 feet square nested inside the grove of trees. These trees were not big enough to use for supporting the structure, so the Treehouse would have to support itself and the trees would poke through it. That was it - so we decided to get started.
We dug some holes, put up 3 4x4 posts and a 4x4 beam across the top. It was more difficult than we thought it would be. Someone took a picture of us grinning triumphantly after that first milestone.
The first platform had just 6 posts and 2 beams. I can't remember if they were the 2 beams in the center or the outside edge. We found this to be pretty sturdy, and then changed our minds about what would be on top. Instead of just a platform in the trees, maybe we could make it an enclosed structure... Maybe we could add a porch?
Construction
As far as I remember, there wasn't the first construction drawing made. There was a lot of handwaving between myself and my father and we were working together, so there may not have been any real need.
When we built the platform, we left plenty of room for the trees to sway (this is Florida - even though we were more than 50 miles from the coast, you have to think about hurricanes.) From there we expanded the frame to add a porch.
At some point, we realized that the original 6 beams were not sufficient. We determined this by shaking the posts or getting on top of the Treehouse and trying to shake it. We went back and added many more more supports underneath and cross bracing between the supports. We didn't like the cross bracing because it sort of spoiled the look of the Treehouse floating in the trees, but after they were added, it didn't feel like it was about to topple over when you climbed on top...
One comment on the web was that this Treehouse was inspired by Lebbeus Woods. Although I went to college and studied architecture, I was only 11 years old when the ideas was conceived, and it was my father who came up with the idea, who I'm pretty sure has never heard of nor seen the work of Mr Woods. So maybe he got his ideas from us.
Art
I created a pencil drawing of the Treehouse during the summer of 1990, after my first year of college where I took classes in mechanical and freehand drawing at Georgia Tech in the College of Architecture.
In 2008, Tina Gibbard, an art student painted the treehouse, reset in an English wooded landscape.